WE CREATE A STRONGER NORTH CAROLINA BY ENSURING A VIABLE WORKFORCE, AND WE ENSURE A VIABLE WORKFORCE BY REIMAGINING OUR POSTSECONDARY EDUCATIONAL SYSTEM.
- MC Belk Pilon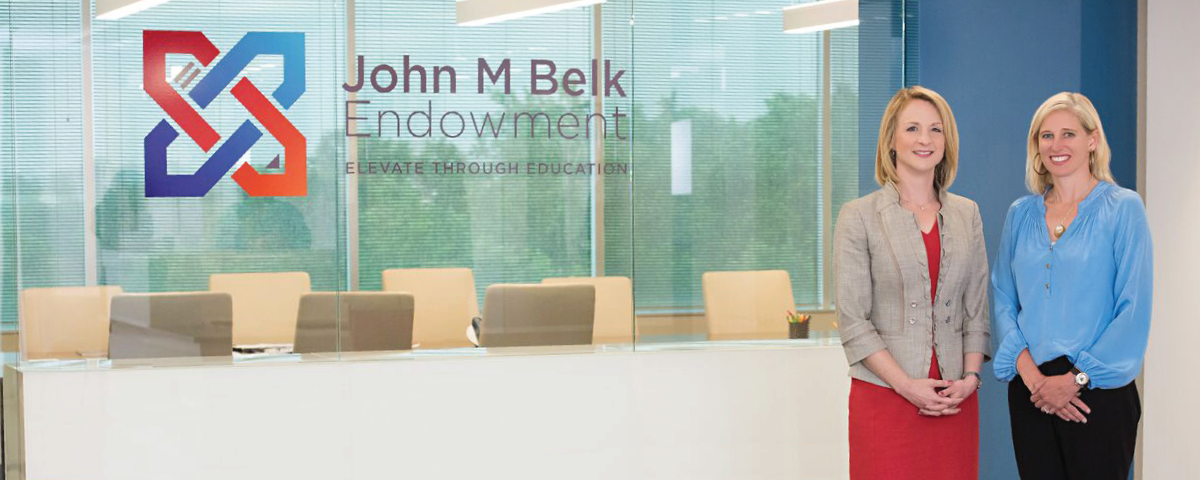 Welcome
WELCOME
LETTER FROM MC PILON, BOARD CHAIR
AND KRISTY TESKEY, EXECUTIVE DIRECTOR
Dear friends:
There is nothing quite as exciting as ideas coming together.
John M. Belk created this endowment in 1995 to further education in his beloved home state of North Carolina. A decade later, we have integrated his legacy with our vision and committed to three pillars:
improving ACCESS to postsecondary education by providing opportunities to all students,
increasing the number of students who COMPLETE postsecondary education with market-relevant degrees and credentials, and
ensuring North Carolina's graduates can secure long-term, family-sustaining, in-state employment, an alignment we call WORKFORCE RELEVANCE.
We partner and invest with grantees who join us in rallying around the student, and our alliances will have a profound impact on North Carolina's future.
There is nothing quite as motivating as people coming together.
One highlight of 2014 was convening, for the first time in history, representatives from Davidson College, Duke University, North Carolina State University, and the University of North Carolina to discuss improved college access for our state's rural and urban high school students. The John M. Belk Endowment continues to bring together educators, advocates, and innovators to share insights, test ideas, learn from mistakes, and find points of intersection. By breaking down barriers between community leaders, we also break down barriers for students.
There is nothing quite as inspiring as solutions coming together.
Today, for every 100 ninth-graders in North Carolina, 70 graduate high school; 44 go to college; and only 20 graduate with a postsecondary degree within six years1. There is a clear, urgent need for systemic transformation. A need for ambitious goals, moral courage, and thoughtful leadership. A need for better understanding of when and why students fall out of the educational pipeline, as well as calculated risks and proactive investments to help keep them on track. JMBE is committed to fulfilling those needs: accumulating data, sharing insights, making connections, and mobilizing for change. For our students, for our state, we must see it all come together.
"Our community has seen growth, but many of the people who grow up here do not see a way for themselves to be a part of it because they've been shut out of opportunities. We have a lot of programs designed to help, but the problem is they are not moving in the same direction. If we don't work together to get more young people and underemployed adults on a clear path, we will keep leaving talent on the table and our whole city will suffer."
Community Leader working with Educators and Employers to Develop Education-to-Career Pathways, Durham, NC

Grantee Spotlight

MDC

North Carolina's Economic Imperative: Building an Infrastructure of Opportunity

Award Amount: $255,252 (over 1 year)

The John M. Belk Endowment commissioned MDC to research and enhance statistics for economic mobility in North Carolina, as inspired by Harvard's Equality of Opportunity Project. MDC studied the systemic barriers to economic mobility in North Carolina, examined the connections between education and employment, and produced detailed portraits of why so many of our citizens are at a competitive disadvantage. The 2016 MDC report offers both statistics and context that will help North Carolina regions and communities create opportunity for their residents. Post-publication events will be designed to build awareness and promote community response and action.

Grantee Spotlight

Charlotte Works

Strengthening the workforce by connecting talent to jobs through NCWorks "Career Pathways" strategy.

Award Amount: $200,000 (over 1 year)

NCWorks is a new partnership between the North Carolina Department of Commerce, Department of Public Institutions, and Community College System Office. This organization believes that purposeful plans for education and training will lead to successful careers aligned with the needs of businesses and will certify career pathways for our state's students and employers. NCWorks "Career Pathways" strategy attracts young people and adults into education and training programs for high-demand jobs needed by North Carolina industry.

"I came into Single Stop because I heard it was a place that could help with my struggles. I am a single parent of a 2-year-old boy. I am considered homeless as I live in a place for mothers and children. I don't want to give up on my dream of graduating school…. It's amazing that the resources are there to help struggling students."
Student
Central Piedmont Community College, Charlotte, NC

Grantee Spotlight

Single Stop

Streamlining and coordinating student resources through a technology platform that supports financial stability.

Award Amount: $7,750,000 (over 4 years)

Single Stop creates solutions for low-income residents seeking to complete postsecondary education by using an innovative technology platform to 1.) connect students to information and resources and  2.) activate crucial human supports, such as case management or tax services, to establish and sustain financial stability. In North Carolina, Single Stop's proprietary technology, training, and support will benefit more than 40,000 students in up to ten community colleges that will include rural and veterans pilot sites and up to three Historically Black Colleges and Universities within the state.

Grantee Spotlight

The Aspen Institute & NC State University

Building Capacity for Community College Leadership and Planning for Excellence in North Carolina.

Award Amount: $1,075,000 (over 1 year)

The Aspen Institute will partner with eight community colleges in North Carolina to complete a deep analysis on their institutions and strategies to improve their student success. The reports generated by the Institute's student experts from around the country will redefine community college institutions, helping them move "from good to great." Additionally, the Aspen Institute's work will infuse the curriculum of North Carolina State University's community college leadership programs with critical professional development for the next generation of community college leaders in our state. This work is both important and timely, for it addresses an anticipated leadership shortage due to the likely retirement of many current community college administrators over the next five years.

Grantee Spotlight

Brunswick Community College

Strengthening community college completion rates for returning adults through Project Finish Line.

Award Amount: $150,000 (over 1 year)

Project Finish Line partners with the Brunswick Community College Foundation to reengage students who are within two courses of completing a career pathway certification or fifteen credit hours of completing an Associate's Degree. The program provides fee assistance or emergency funds to these returning adults in order to help them complete a community college credential or degree. This effort seeks to accomplish two long-term goals: first, simply to improve students' completion rates, and second to meet the increasing demand for a trained, credentialed workforce in rural Brunswick County.

"Having a college adviser has taught me that there is hope for everyone to further their education once they work hard enough for it. My adviser [wanted] the best for me, and I will forever be grateful for that."
High School Senior
East Bladen High School, Elizabethtown, NC

Grantee Spotlight

College Advising Corps

Strengthening access into the College Pipeline for North Carolina's Students

Award Amount: $10,000,000 (over 4 years)

College Advising Corps (CAC) increases the number of students who enter and complete postsecondary education by providing one-on-one meetings, guidance, and resources for low-income, minority, and first-generation college students in rural North Carolina, students who otherwise would not receive the support they need to identify and enroll in postsecondary programs. During the first two years of the grant, in partnership with Davidson College, Duke University, North Carolina State University and University of North Carolina at Chapel Hill, 35 new full-time advisors have been placed in rural high schools throughout North Carolina. So far these advisors have helped more than 10,000 students plan their college searches, complete and submit more than 9500 applications and earn over $2.5 million in scholarships.
Our Reach
The John M. Belk Endowment funds organizations in 52 counties throughout the state of North Carolina, in addition to several statewide efforts.